Slovenia to Macedonia Real Food Adventure
Booking Dates
07/01/2023 through 09/11/2024
Travel Dates
07/01/2023 through 09/14/2024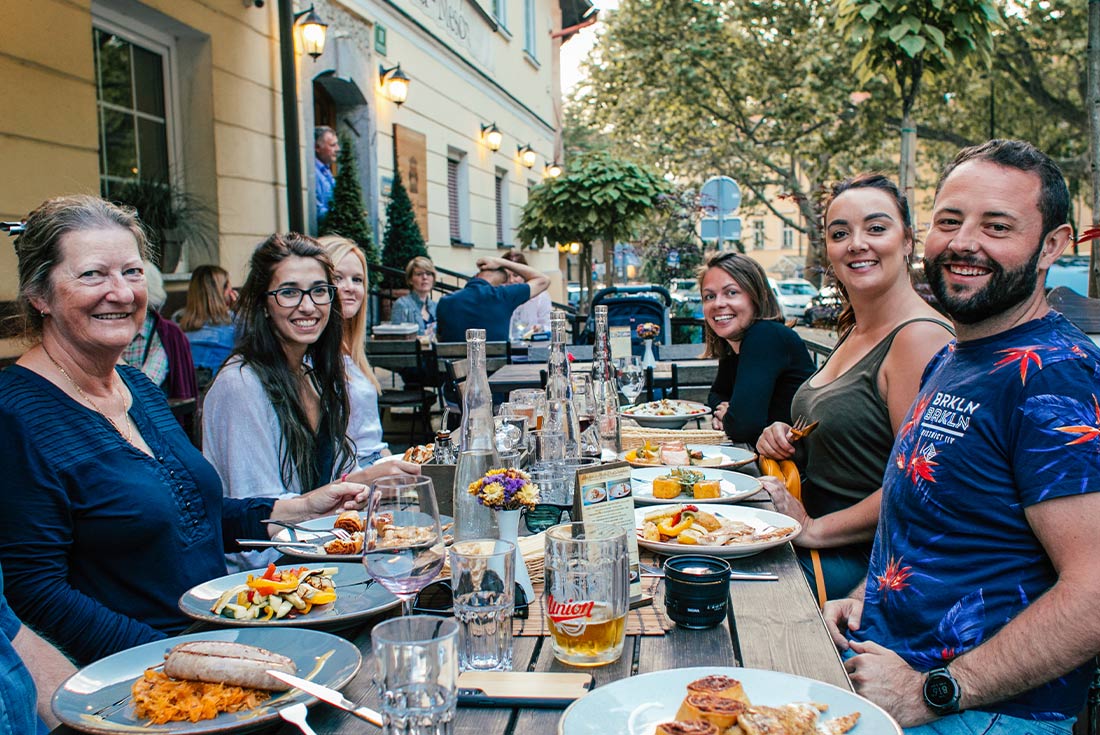 Slovenia to Macedonia Real Food Adventure

If it's a gourmet feast you want, a gourmet feast you shall get! This food inspired journey through the Balkans includes visits to salt pans, a truffle farm, wineries, waterfalls, national parks, fishing villages and so much more. Discover why Istria is considered one of the world's leading producers of quality olive oil, eat Dalmatian-style under a metal bell, raise a glass of Slovenian wine or plum brandy with your small group, and shout 'zivjeli!' to the simple, home-style cuisine this region is famous for. Indulge in a traditional barbeque in Kosovo, dine on home-grown produce in the private garden of a Dihovo family and visit a centuries-old olive press outside of Kotor. Experience next level hospitality on this unforgettable epicurean odyssey.

Activities
Ljubljana – Schnapps tasting
Bled – Day Trip by Public Bus
Bled – Kremsnita Tasting
Ljubljana – Slovenian Cooking Class
Piran – Tasting Tour and Lunch
Motovun – Truffle Hunt and Tasting
Rovinj – Day Trip
Plitvice Lakes – National Park Visit
Rakovica – Home-cooked meal
Zadar – Nunnery & farm visit
Zadar – Local market visit
Split – Old Town Food and Culture Tour
Korcula – Leader-led orientation walk
Zrnovo – Cooking Class
Dubrovnik – Welcome Dinner
Konavle – Home-cooked lunch with wine tasting
Konavle – Ljuta visit
Njegusi – Smokehouse visit & tasting
Lustica – Olive oil farm visit
Prizren – Leader-led city tour
Shkoder – Rozafa Fortress visit
Pristina – Leader-led city tour
Pristina – Gracanica Monastery visit
Pristina – Serbian barbecue lunch
Tetovo – Painted Mosque
Debar – St Jovan Bigorski Monastery visit
Janche – Cooking class
Kuratica – Home-cooked dinner
Ohrid – Green Market
Prespa – Home-cooking demonstration
Prespa – Agriturismo visit & tasting
Dihovo – Beekeeper farm visit
Dihovo – Home-cooked lunch
Stobi – Stobi archaeological site
Tikves – Wine tasting
Matka – Matka Canyon boat cruise
Skopje – Green Market
Highlights
Learn how to prepare local delicacies with hands-on experiences that include taking a cooking class in Ljubljana to indulge in Slovenian favourites, and joining local village women in Janche for a class focused on making local flaky pastries.
See behind the scenes of local produce when you visit a centuries-old smokehouse, an olive mill, an apple farm, go truffle hunting, and meet a local beekeeper for a honey tasting.
Throughout your culinary escapade, explore the stunning landscapes of the region, discovering the fairytale landscapes of Lake Bled, the falls of Plitvice Lakes, the lush Croatian island of Korcula, spectacular Matka Canyon and stunning Lake Prespa.
Experience an authentic taste of the Balkans and a look at local life when you dine in family homes in Rakovica, Ljuta, Ohrid, Lake Prespa and Dihovo.
Try the most iconic foods of Slovenia, Croatia, Macedonia, Montenegro, Kosovo, including smoked and barbecued meats, cheese, gjomleze and locally produced wine.
| Day | Description | View All |
| --- | --- | --- |
| Day 1 | Ljubljana | Details |
| Day 2 | Bled / Ljubljana | Details |
| Day 3 | Piran / Motovun | Details |
| Day 4 | Motovun | Details |
| Day 5 | Plitvice National Park / Rakovica | Details |
| Day 6 | Zadar | Details |
| Day 7 | Split | Details |
| Day 8 | Split | Details |
| Day 9 | Korcula | Details |
| Day 10 | Korcula | Details |
| Day 11 | Dubrovnik | Details |
| Day 12 | Kotor | Details |
| Day 13 | Kotor | Details |
| Day 14 | Prizren | Details |
| Day 15 | Janche | Details |
| Day 16 | Ohrid | Details |
| Day 17 | Ohrid | Details |
| Day 18 | Bitola | Details |
| Day 19 | Bitola | Details |
| Day 20 | Skopje | Details |
| Day 21 | Skopje | Details |
| Day 22 | Skopje | Details |